NCAA Underdogs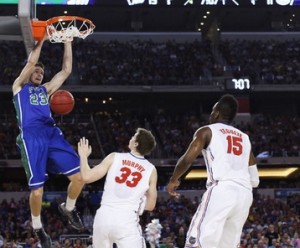 One of the greatest things about the NCAA Tournament is all of the big upsets that happen in the first and second rounds. In fact, these amazing David-vs-Goliath triumphs are the lifeblood of March Madness. Of course, it's always difficult picking which low seed will knock off a favorite. It's even really tough to choose underdogs that'll beat the spread.
Just because there are upsets in the first round does not mean underdogs will frequently cover the spread. More often than not, low seeds do lose by a sizable margin to elite teams. So the idea that you can win profits by unselectively betting on NCAA Tournament underdogs to cover the spread is a myth.
However, you can certainly make some nice profits by skillfully choosing unheralded schools to beat the spread. Keeping this in mind, let's discuss some strategy for betting on March Madness underdogs.
Look for Little-Known Teams without Much Hype
One of the more general sports betting tips is that handicappers set lines based on public perception. So you can always expect a fairly high point spread when a major conference favorite is playing a lightly regarded small conference school. For example, if Duke were playing South Dakota State, you can bet that Duke will be a heavy favorite on the line.
But this certainly doesn't mean that you should run from the big underdog. SportsInsights once did a study on the matter and found that when a team is favored by 16 points or more and garners 60% of the public's betting action, the other team beats the spread 56.5% of the time. Considering that you only have to win 52.4% of your wagers to break even, huge dogs are an interesting proposition.
Focus on the Right Stats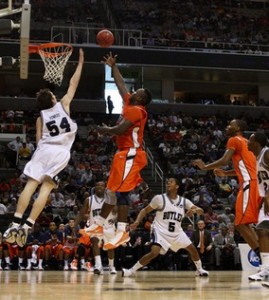 Knowing that big dogs without much support from the public win over 50% of the time is nice. But any skilled bettors knows that this isn't enough and looking at the stats before placing a wager is very important. Now, a lot of people will immediately gravitate towards how much a team scores and what their three-point shooting percentage is. After all, how many Tournament teams have we seen that shoot lights out and pull off an unbelievable victory?
Even with this being the case, you might want to take a closer look at a couple of other other statistics: rebounding and field goal percentage defense. When facing a school with better athletes, an underdog that can play defense and rebound still has a chance. Rebounding margin is an easy one to explain because if you can control the boards, you're going to prevent the opponent from getting second-chance points.
Field goal percentage defense is more important than scoring defense because it's not dependent on a team's style. Rather, if you can force teams to miss shots, you've got a good defense regardless of your playing style.
Seniors and Guard Play
Although painfully obvious to some, a lot of bettors tend to overlook a team's experience. And it's understandable, given that a high-powered school with several 4-star and 5-star recruits is going to overshadow some Atlantic Sun Conference team with junior and senior starters. But senior leadership is definitely something that has to be taken into account because older players often play with more poise - especially against a freshman and sophomore-led squad.
Good guard play is another major factor that can lead underdogs to cover the spread. Sure every position is important, but guards can especially dictate a game's outcome. They handle the ball, hit big outside shots and control the tempo. So you should definitely focus on low seeds with tough guards.
Consistently picking NCAA Tournament underdogs that cover the spread is a tough matter. But with enough work and patience, you can definitely gain the necessary experience to make money with March Madness betting.